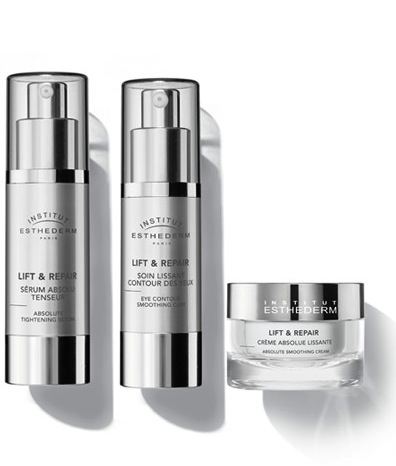 THE EXCLUSIVE "LIFTING EFFECT" TREATMENT
TARGETS THE MUSCLES, MICRO-CIRCULATION AND SKIN TISSUE.
An original treatment for a painless face lift inspired by kinesitherapy and beauty treatments.
ESTHE: as in Esthederm and 'Esthétique' (aesthetic in English)
LIFT: as in its Lifting action
WHO FOR?
anyone wanting to diminish expression lines and restructure facial volumes and contours.
KEY TREATMENT MOMENTS:
1. Preparing the skin:
bio-compatible cleansing. Allows better penetration of active ingredients.
2. Energy re-balancing:
application of Cellular water to circulate and release energy to help skin cells better absorb active ingredients.
3. Relaxes the muscles responsible for expression lines:
combination of smoothing techniques as well as relaxing and draining techniques.
4. Intense action:
application of Absolute Smoothing Cream and the Thermo-Sculptant Mask.
5. Toning massage:
stretching, toning and sub-dermal massage technique on the facial support muscles.
6. Firming:
application of Absolute Tightening Serum.
7. Revitalizing and adapting the skin to its environment:
application of UV inCellium Spray.
UNIQUE ACTION ON THE MUSCLES:
Relaxes the muscles responsible for expression lines:
Smoothing massage techniques using the Traceur Focus Rides formulated from relaxing and draining active ingredients.
Re-training and stimulating the muscles responsible for sagging thanks to special massage techniques:
- Stretching (parallel to the muscles)
- Toning (perpendicular to the muscles)
- Sub-dermal tissue massage
TARGETS 3 FACIAL ZONES:
- Eyes and eyelids
- Cheeks, nose-to-mouth lines and facial contours
- Décolleté, neck and double chin
RESULTS:
SKIN IS FIRMER, WRINKLES ARE SMOOTHER, VOLUMES ARE TONED AND FACIAL CONTOURS ARE REDEFINED.